Exploring Beefy with Enkrypt
Use multichain wallet Enkrypt to connect to and explore the auto-compounding protocol Beefy!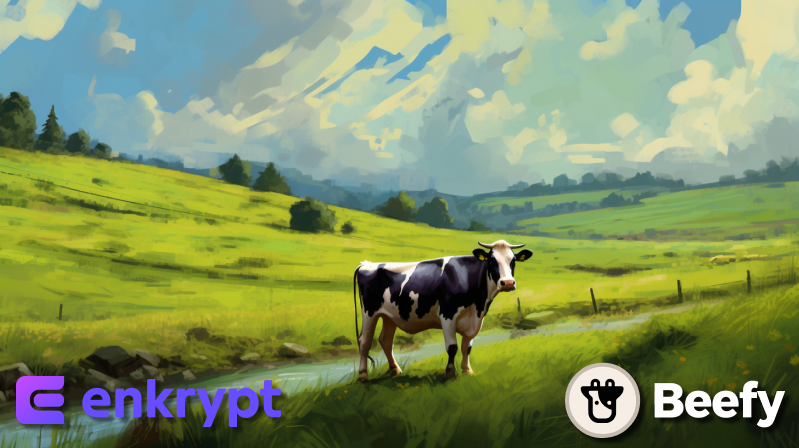 Enkrypt is a multichain, non-custodial, and open-source web3 browser wallet built by the team behind MEW (MyEtherWallet). With Enkrypt, users and developers can generate accounts, manage tokens and NFTs, and interact with DApps on Substrate and EVM chains. Follow the instructions in this guide for help browsing Beefy with Enkrypt!
First things first - you'll need a crypto wallet, like Enkrypt. For help installing and setting up Enkrypt, click here.
---
Interacting with Beefy
Head to Beefy.com. After landing on the home page, click on "Launch App".
You'll be taken to the dApp homepage. Click on "Connect Wallet".
Beefy will display a list of available wallets. Click on "Enkrypt" to connect.
After connecting, the homepage will look similar to the screenshot below. Select which network you want to operate on by click on its logo. You can select more than one. Once you have your network(s) selected click on one of the vaults to explore farming options.
After selecting a vault, you'll be brought to its info page. Here you'll find a safety score, Beefy's autocompounding strategy, APY breakdown, and asset information.
Next, click on "Dashboard" on the top of your screen. This will display general statistics such as how many vaults you're in, how much yield you've accrued, what chains/platforms/tokens you're exposed to, and more!
Scrolling down will display all vaults you're currently farming.
Next, click on "DAO". Select "Proposals".
If you're a $BIFI holder, you can create and participate in DAO proposals here. Make your voice heard!
Next, click on "DAO", but this time lets check out the "Treasury".
Here you'll see Beefy Treasury data, including its total holdings in $USD, its stablecoin holdsings, and even asset diversity!
By scrolling down you'll see a more detailed examples of how the Beefy Treasury is being allocated.
Lastly, check out Beefy resources if you're interested in learning more. Here you'll find official docs, news, audits and brand assets!
---
Join our Discord community 🌐 |  Follow us on Twitter 🐦 |  Check out our blog 📰
---